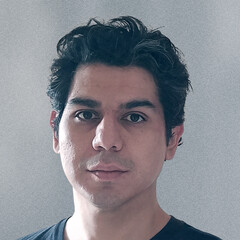 Pablo Poffald
Lead Character Artist @ Final Strike Games
Portland, OR, United States
About
I am a highly collaborative and communicative problem solver with over ten years of game industry experience working within large teams and small startups. I believe that process, iteration, continuous improvement, communication, and flexibility result in the best art to serve the needs of a game, and that as a developer on a team, we can all lift each other up to deliver amazing work.
Skills
3D Modeling
Character Modeling
Texturing
Games
VR
Concept Modeling
Hard Surface Modeling
Hair Cards
Character Customization Systems
Software proficiency

Maya

ZBrush

Substance 3D Painter

Mari

Photoshop

Marmoset Toolbag

Marvelous Designer

Knald

R3DS Wrap

Unity
Unreal Engine

xNormal
Experience
Modeled and textured character assets for an unreleased VR experience with a character customization system.

Helped establish and document pipeline for creating and implementing interchangeable avatar accessories.

Modeled and textured Ghostbusters and ghosts for Ghostbusters: Dimension using a mix of film assets, scan data, and modeling from scratch.


Collaborated with team to develop character customization system, pipeline, and workflow in preproduction for The Sims Mobile.

Authored face and body blendshapes for character customization.


Created character and environment models for The Sims 3: Into The Future, University Life, Dragon Valley, Midnight Hollow, Roaring Heights, Supernatural and Showtime.

Conducted technical reviews of models and maintained project documentation.